within the Segelzentrum Malcesine (FVM)
about 4km North of Malcesine on the via Gardesana
We are a sailing and rental centre within the world renowned Malcesine Sailing Centre (Fraglia Vela Malcesine). We focus on courses and rental to holiday makers from UK, Italy and Germany. We offer RYA and VDWS (German federation) courses in sailing and windsurfing and our own foiling courses
via Gardesana 205, Malcesine (VR) 37018
45º 47.677N 10º 50.053E
(45.79462 10.83422)
It's better to specify "FVM". Be careful if you use your mobile phone app for directions to us as another centre near the Europa hotel, only 2km from Malcesine, is sometimes given in error. Make sure you are near to the hamlet of Navene.
It's better to specify "FVM" than Europa Surf and Sail!
Take the public bus (blue) which runs from Riva del Garda at the North end of the lake to Garda town in the South. Some run to Verona or to Peschiera at the foot of the lake.
Catch it from the bus station in the centre of Malcesine. You can get off at Campagnola (300m South of the Fraglia) or at Navene (300m North of the Fraglia).
Take the red tourist bus which leaves the centre of Malcesine at twenty minutes past each hour (except 3pm) and stops at many points on the road; you can alight from the bus opposite the Malcesine Sailing Centre ("the Fraglia").
The bus takes approximately 15 minutes. Please check the timetable.
Use the the Lakeside cycle path to reach us, it takes about 15 minutes from Malcesine. You can walk, bike, rollerskate or unicycle along the path that runs from south of Malcesine to north of Navene.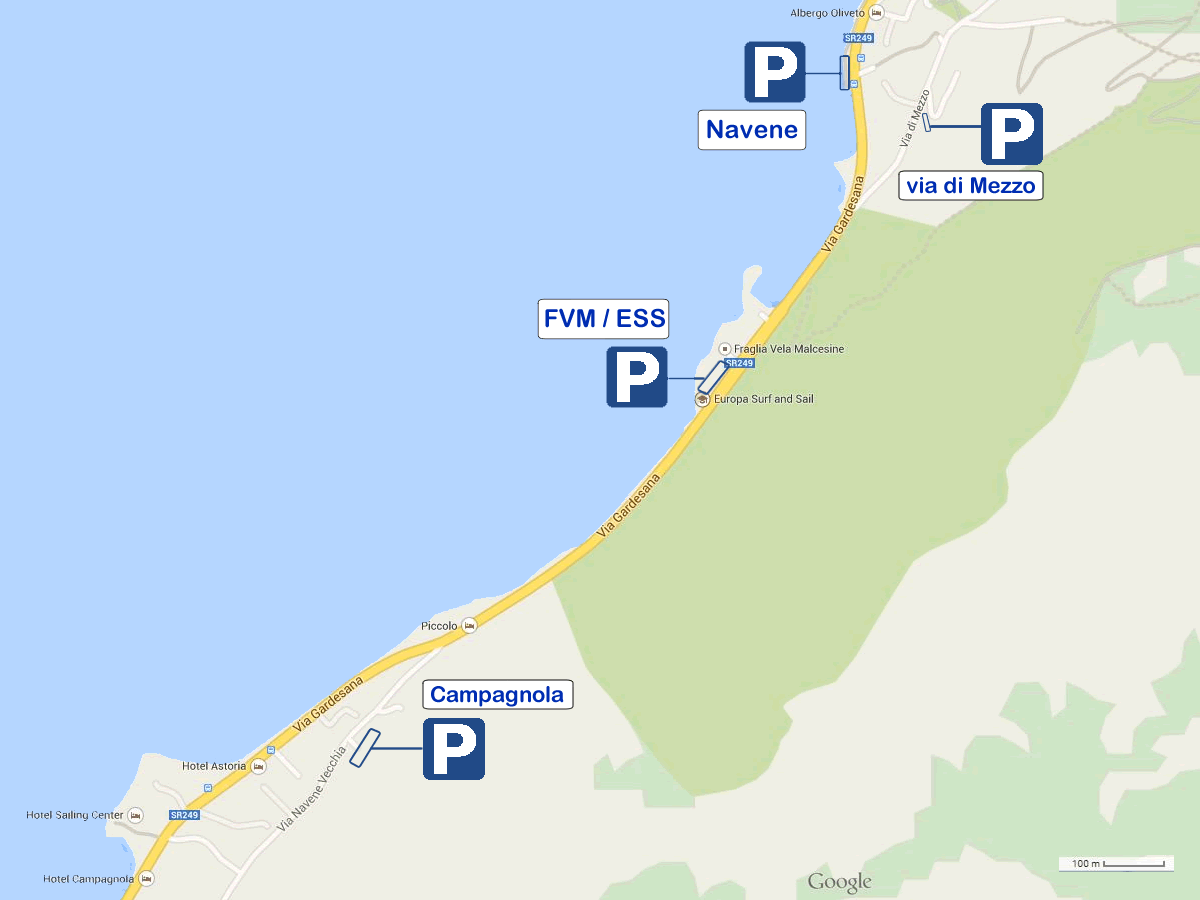 The FVM has the excellent parking with weekday access usually just a matter of driving in. At weekends you may have to come early, although when there are large events, the centre parking may be reserved and visitors directed onto the alternate parking along the cyclepath.
The first 20 minutes is free then it's €1 per hour (to the municipal centre, not to us!). There is a payment machine at the main entrance to the clubhouse.
Although it fills quickly, you can often park here with a short walk back along the cycle path. Again, it's 1€ / hour, paid in advance, but requires coins.
Alternatively, on the via di Mezzo, up on the right by the large villa, are parking spaces which are free. Early birds get these spots!
Heading south, 200m from ESS, bear left up the narrow via Navene Vecchia between high walls (signs for no trucks and for parking) and at the trout farm on the left (before the pond) is the entrance to a large public car park.
This also costs 1€ / hour and the walk back is around 400m.